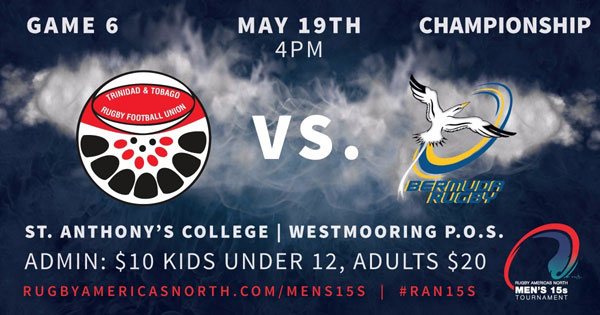 Trinidad & Tobago and Bermuda will play a historic rugby match at St. Anthony's College Ground in Westmoorings at 4:00 p.m. on Saturday, May 19, 2018. The game is a Fifteen-A-Side in the 2018 Rugby Americas North (RAN) Senior Men's 15s Championships. It will be the first international rugby game for St. Anthony's College Ground and the Trinidad & Tobago Senior Men's National Rugby Team is hoping to take full advantage of the fact that the venue will be a new one to both the home and visiting teams.
The National Team is currently hard in training under the watchful eye of Coach, Kyle Wynyard, on Mondays, Wednesdays and Fridays at the President's Ground in St. Ann's as well as on Saturday mornings from 10:00 a.m. The morning sessions are to ensure that the players are ready for the conditions of a 4:00 p.m. kick-off.
Manager, Ronald Annandsingh has stated that he is quite satisfied with the efforts being put out by the players. Training has been intense and the players seem to understand the meaning of representing the red, white and black.
Matches against Bermuda are always tough but the Manager feels that this particular team is up to the task. He's calling on the public to come out in their droves to support the National Team especially given that its the first game of the season.
Brand new President, Colin Peters, says that he is expecting the media to turn out in full to support the team as he is expecting the National Team to complete a win to start of his tenure as President of the Trinidad & Tobago Rugby Football Union (TTRFU).