The Trinidad & Tobago Rugby Football Union (TTRFU) held a Press Conference to announce the Men's Under 19 and Senior Women's 10s National Rugby Teams on Monday, July 15, 2019, at the V.I.P. Room, Hasely Crawford Stadium in Port-of-Spain.
The National Teams will be participating in the 2019 Rugby Americas North (RAN) Men's Under 19 & Senior Women's 10s Tournaments, which is scheduled to take place at the Bellevue Plantation Polo Fields in Barbados, from July 18 to 21, 2019.
The Men's Under 19 Team will depart on July 17, 2019, at 5:30 p.m. and the Senior Women's Team, on July 18, 2019, at 8:05 a.m.
TTRFU's President, Mr. Colin Peters lamented the fact that these teams were unable to participate in their respective tournaments in 2018 as a result of lack of funding. He commended the Technical Committees for standing up in 2019 and reaching out to Corporate Trinidad & Tobago, as well as the families and friends of the athletes.
Through these efforts funds were raised to ensure that both the Men's U19 & Senior Women's 10s Teams are able to travel to Barbados to represent Trinidad & Tobago.
Special thanks was given to Huawei Technologies, whose office in Trinidad stepped up to provide sponsorship to the Men's Under 19 Team that helped make the dream of participation in this tournament a reality. The Huawei logo will be featured on the Team's Jerseys.
Huawei T&T CEO, Mr. Jeff Jin, visited the teams and encouraged them to play their best and bring home the win for T&T. Likening the team to Huawei, he said that the company was not well known when it first began, but over a short time became one of the best known and most successful companies around the world.
Similarly, he noted that although rugby was not the most popular in T&T, the teams' performances in Barbados could help to grow the sport's popularity and possibly make T&T known for its success in rugby around the region and the world. He concluded by expressing his pleasure at being part of this initiative. "This rugby sponsorship continues to reflect our company's commitment to the local market here in T&T, and position us as a responsible corporate citizen that recognises the value of youth development and local partnerships," he said.
This is a new beginning, as these teams represents the future of rugby at the National Level. We anticipate positive results from both teams. It is to be noted that the Senior Women's 10s Team traveling is mainly a Development one, as the Senior Women's 7s players will be attending the 2019 Pan American Games in Lima, Peru later this month.
The Executive Committee and members of the rugby fraternity would like to wish the National Teams a safe and successful tournament.
The Trinidad & Tobago Men's Under 19 & Senior Women's 10s National Rugby Teams are as follows:
TRINIDAD & TOBAGO
MEN'S UNDER 19 NATIONAL RUGBY 15S TEAM

TRINIDAD & TOBAGO SENIOR WOMEN'S NATIONAL
RUGBY 10S TEAM

MIKHAEL ABERDEEN
ANTONIO PASCALL
ZAKIYA BELLE
ISAIAH AYERS
ZEPHAN PATHRON
TERESITA DILLON
CHE BACCHUS
RAHEEM PHILLIP
TALITHA FORDE
KAYODE BARRINGTON
JABARI PINDER
IMANUEL FRANCIS
KEFENTSE BARRINGTON
ANDREW QUASH
VENICE FREDERICK
NIKOLAI CHRISTOPHER
MAALIK RAYSIDE
ORNELLA GEORGE
SHAYDON DE LANEY
LAKSHMAN SEEPERSAD
DENIQUA GORDON
ASKARI DAWUD
JAYDN SMALL
CALISHA HARRY
K'JARO FRANCIS
JOHNATHON STEWART
JADE HUSBANDS
JAHREEM GEORGE
JONATHAN TAYLOR
FALINA JACK
DONTE HAZZARD
JUDAH WILSON
TANDIA JACK
CHE KIDNEY
JABARI YOUNG
AMARTIS JAWAHIR
CLAYTON KNOTT
JEROME POON TIP – COACH
ANGEL JORSLING
KYLE LOOK HONG
DON SUCRE – ASSISTANT COACH
JUDELLE NOEL
YOHANCE MOORE
QUENTIN LYDER-BAPTISTE – MANAGER
ARISSA ROMANY
NICHOLAS NAVARRO
GRAHAM CHIN – ASSISTANT MANAGER
DON SUCRE – COACH
SIMON NAVARRO
DENNIS SERRETTE – PHYSIOTHERAPIST
SHARI PARSONS – MANAGER
DEREK ASHBY-WILLIAMS – FITNESS COORDINATOR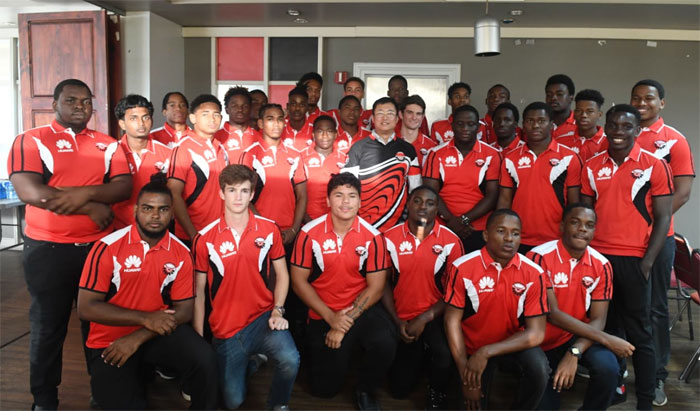 Mr. Jeff Jin, Chief Executive Officer of Huawei Technologies (T&T) Limited with
Members of the Trinidad & Tobago Men's Under 19 National Rugby 15s Team
Mr. Jeff Jin, Chief Executive Officer of Huawei Technologies (T&T) Limited with
Members of the Trinidad & Tobago Senior Women's National Rugby 10s Team