The Trinidad & Tobago Rugby Union (TTRU) is proud to announce its Senior Men's and Women's National Rugby Sevens Teams which will be participating in the Rugby Americas North (RAN) Super Sevens Tournament scheduled to take place in the Bahamas on April 23 & 24, 2022.
The National Teams left for the Bahamas today and this will be the first RAN Tournament that Trinidad and Tobago will be participating in since the onset of the COVID-19 Pandemic.
Speaking on behalf of the Senior Women's Team, Manager, Ms. Jenilee Limada said she expects the team to play competitive rugby. "While there are a bunch of new faces, the team has gelled well together and support each other. As with all other teams, we would like to medal, but at the base of it all, we want to play great competitive rugby."
The team boasts five (5) athletes who will make their debut in the Bahamas. These are Kadeira George, Caneisha Isaac, Angel Jorsling, Alix Lewis and Ketara Munroe.
Ms. Limada continued, "Our team is a diligent and supportive bunch of young women who are eager to represent their country and finally get back to playing rugby. We have been working hard at getting the basics right and using our skills to perform at the best level."
On the Senior Men's Team, three (3) players will also be making their debut – Karlon Alexander, Kaaleb Diaz-Durham and Jamaal Stewart. Speaking on behalf of the team, Captain Shakeel Dyte said the break due to COVID-19 has been a lengthy one and the team is looking forward to representing Trinidad and Tobago once more at the regional level.
He continued, "As a team, we are looking forward to competing after two (2) years of not being able to take the field. We have put in a lot of work over the past few months and are excited to be able to go out there and represent. I have confidence in the guys and expect that each and every one of us are going to make Trinidad and Tobago proud."
All matches will be streamed live on http://www.rugbyamericasnorth.com/ and updates on the tournament can be followed on the TTRU's Facebook (https://www.facebook.com/ttru868) and Instagram (https://instagram.com/ttru_868) pages.
Senior Men's National Team: Shakeel Dyte (Captain), Karlon Alexander, Nigel Ballington, Kaaleb Diaz-Durham, Jahreem George, Christopher Hudson, Anderson Joseph, Leon Pantor, James Phillip, Joseph Quashie, Joshua Seechan, Jamaal Stewart and Jonathan Taylor.
Senior Women's National Team: Nicolette Pantor and Alix Lewis (Co-Captains), Kadeira George, Ornella George, Apphia Glasgow, Caneisha Isaac, Fayola Jack, Angel Jorsling, Leah Kintiba, Marika Mendez, Ketara Munroe, Carlina Phillip and Kathleen Stephen.
The TTRU and by extension, the Selection Committee would like to wish the teams and athletes selected all the best in the upcoming tournament.
Trinidad & Tobago Senior Men's National Rugby 7s Team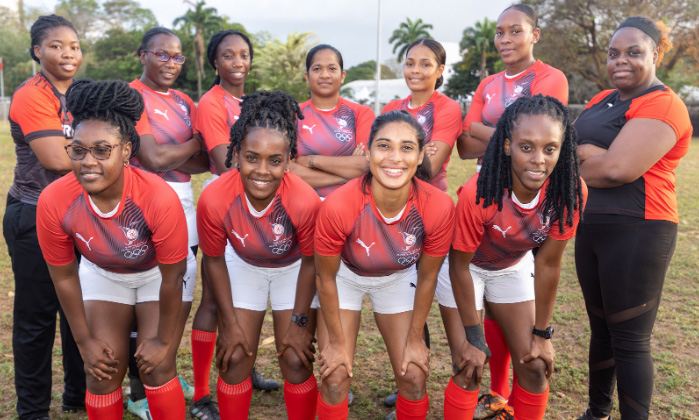 Trinidad & Tobago Senior Women's National Rugby 7s Team