The Trinidad & Tobago Senior Women's National Rugby 12s Team have received their Bronze Medals from the recently concluded Rugby Americas North (RAN) Senior Women's 12s Tournament. The medals arrived last week and were distributed to the Team by the Trinidad & Tobago Rugby Union's (TTRU) President, Maria Thomas and Alexandria Olton, who Coached the team at the event held in Jamaica, from July 14 to 16, 2022.
Trinidad and Tobago finished third, behind USA South and host, Jamaica, who placed first and second respectively, but due to logistical challenges, the T&T Team were unable to receive their medals at the event. Rectifying the situation last week, RAN's General Manager, Niall Brooks, sent his apologies while congratulating Trinidad and Tobago on its third-place finish in the new tournament format.
"RAN is delighted to have the medals delivered to the Trinidad & Tobago Women's 12s Team after they were unfortunately unable to collect them in Jamaica" said Brooks. "The Team trained hard for the competition and I am sure all who participated would have taken away many positives and learnt from their experience, which should be hugely beneficial for the future growth and success of TTRU's Women's Rugby. On behalf of RAN, many congratulations on the Team's well deserved Bronze Medal position and we look forward to seeing the TTRU Women in action once more, in the RAN Mexico Sevens in November."
The Senior Women's 12s Tournament is a development initiative by RAN to help develop Women's 15s in the Caribbean. While the 10s format of the game was played previously, RAN is continuing to move towards getting more women playing 15s in the Caribbean.
For Olton, it was a momentous occasion as she recalled the hard work the athletes put into learning the new format in order to compete in the tournament. "These Women who represented Trinidad and Tobago at the National level at the RAN Women's 12s Tournament in July are more than deserving of these Bronze Medals. They played their hardest and achieved something truly special. We are truly greatful to the TTRU and RAN for ensuring the girls eventually got their medals as I know it means a lot to them and indeed to me, as one of their Coaches, to see them earn something like this." said Olton.
The TTRU will look to the Sevens format of the game next, as the National Teams prepare for the RAN Super Sevens, which is scheduled to take place in Mexico City, Mexico from November 11 to 13, 2022.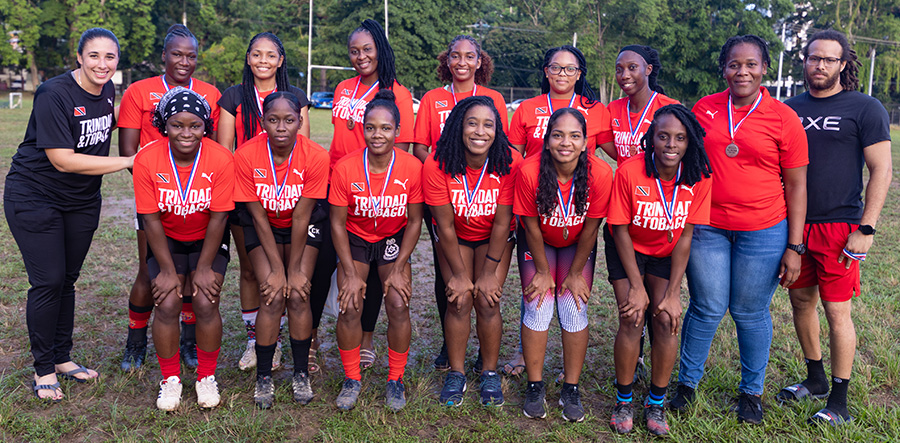 Trinidad & Tobago Senior Women's National Rugby 12s Team
(Photo Credit – Shari John/Self Authored Sports)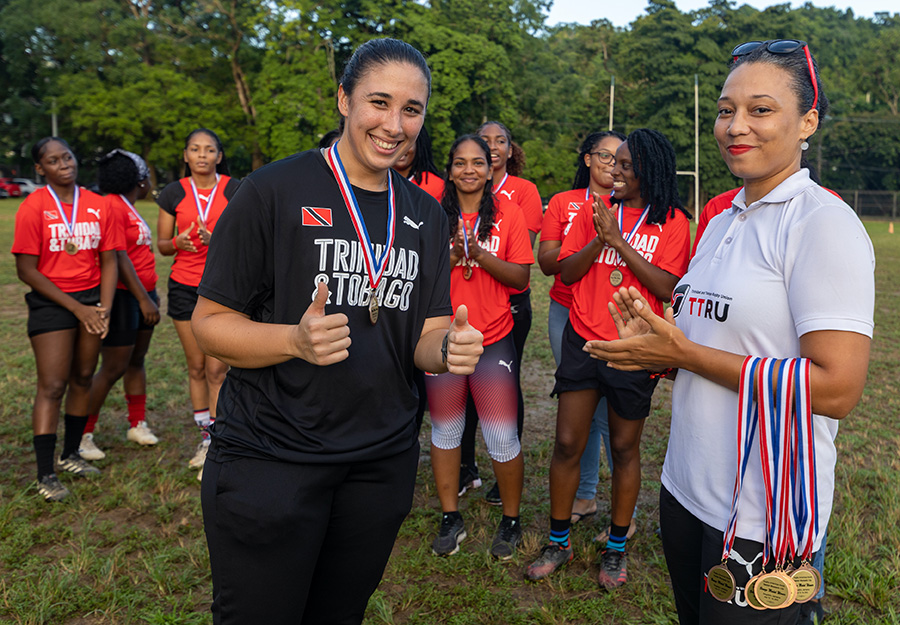 TTRU President & Senior Women's 12s Coach Presenting Medals to the
Trinidad & Tobago Senior Women's National Rugby 12s Team
(Photo Credit – Shari John/Self Authored Sports)