On February 15, 2022, National Rugby Athletes, Fayola Jack, Deniqua Gordon, Carlina Phillip, and Michael Scipio joined Jonathon Taylor and Jabari Young at the Rhino's Rugby Training Camp in San Clemente, California. Respectively, these six athletes are members of the following clubs: Harvard, San Juan, Rainbow/Defence Force, Royalians, Caribs, and Trinidad Northern.
The Rhinos Rugby Training Camp provides immersive rugby training and competition experience to develop athletes in preparation for National and Professional opportunities. The Selection Committee worked with the National Technical Teams to identify available athletes for this opportunity, which will enrich our teams upon their return. The camp runs until May 27, 2022, and athletes required for National duty during the period will be released to represent Trinidad and Tobago.
The Trinidad & Tobago Rugby Football Union (TTRFU) would like to express its gratitude to the incredible Rhinos Team for their hospitality, and to the team in Trinidad and Tobago who have worked to support the athletes with their preparation. National COVID-19 Restrictions have prevented the rugby league for the past two years which removed the local competition. Creating opportunities for athletes to travel to increase their playing experience is one of the ways we are bridging the gap.
"The TTRFU is looking forward to building a partnership with the Rhinos Team in San Clemente, California as we work to build opportunities for our aspiring National Athletes to train in a full-time professional environment with world class coaching. Training and competing with top athletes around the globe will strengthen and inspire the next generation of rising Trinidad & Tobago stars! Special thanks to Frankie Horne, Andreea Trufasu, Ryno Combrinck, and the entire Rhinos Team for making this happen." (Robin MacDowell, Technical Director of Women's High Performance)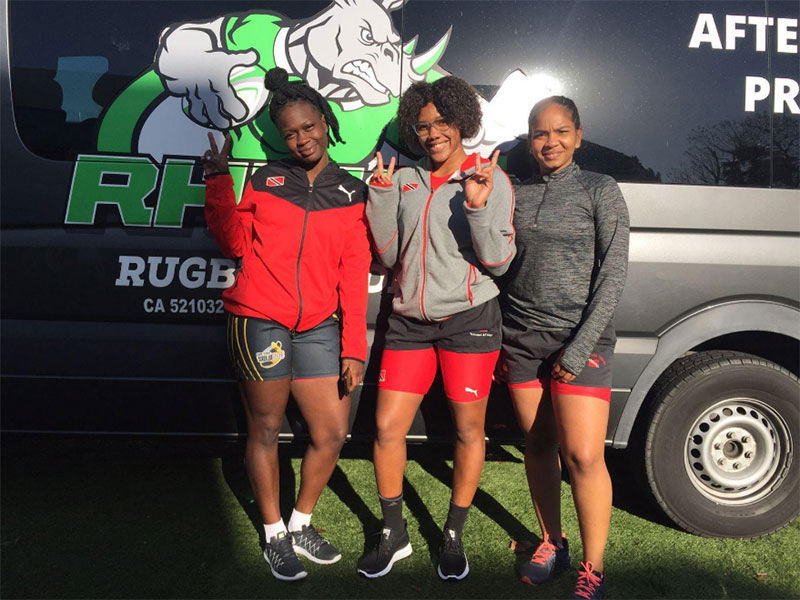 Pictures (L-R): Fayola Jack, Deniqua Gordon & Carlina Phillip
Not Pictured: Jabari Young, Jonathan Taylor & Michael Scipio